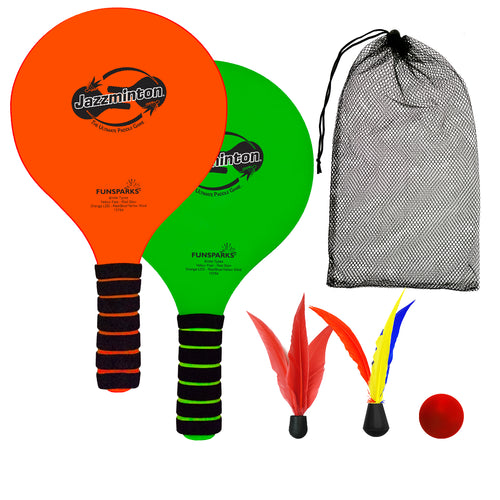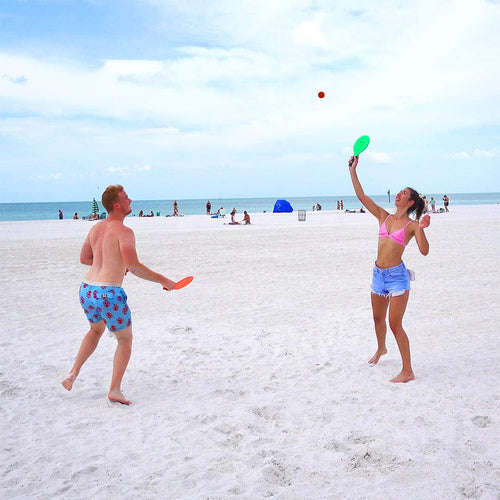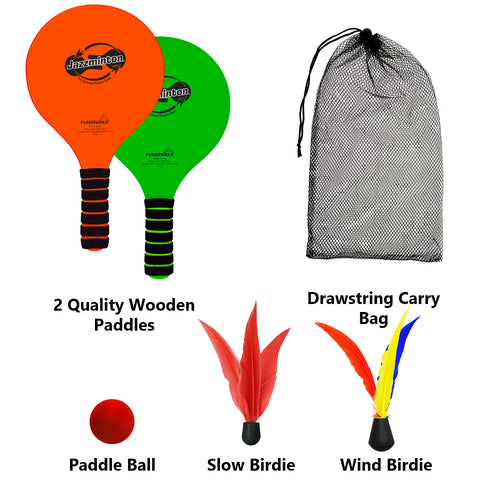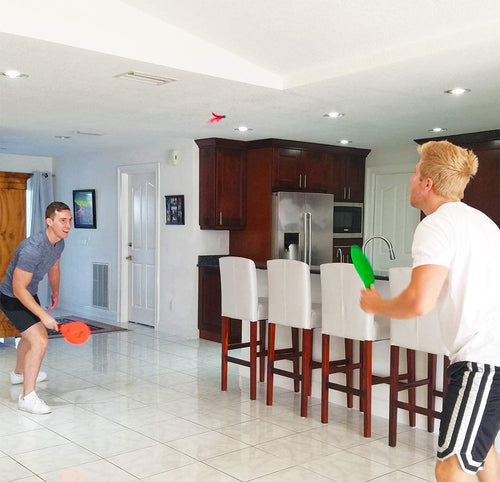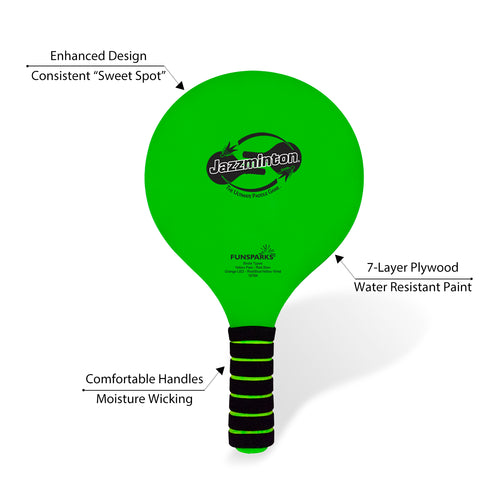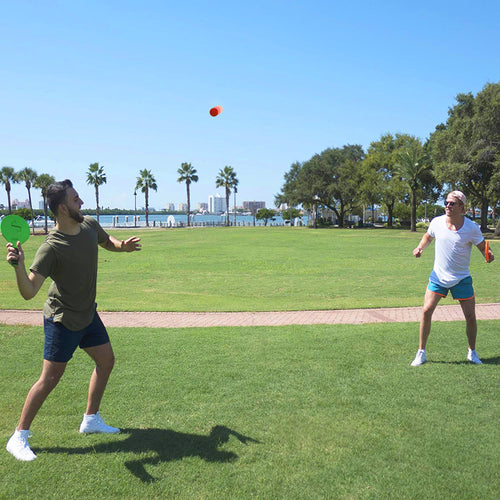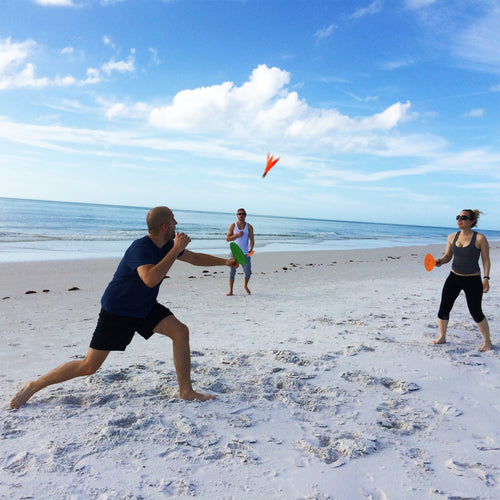 ---
Jazzminton® Beach
EXCITING ACTIVE AND EXTREMELY FUN: Outdoor paddle game which you can play in winds up to 15mph. Play fast and competitive rallies using the wind birdie. Opt for the red birdie for a more leisure simple game that may also be played indoors or stick to the classic ball game
WIND BIRDIE: The heavy weight birdie allows you to play up to 15mph winds, the first of its kind. The birdies are high quality and built to last. If the birdie lands on a hard surface, it will bounce up to 4 feet, perfect for returning
CONNECT WITH YOUR KIDS OR GRANDKIDS: Take the red birdie to play and your kids or grandchildren will love you forever. And if you're competitive take the wind birdie or the ball. Play by the beach, pool or in the rain. This game has no boundaries and no limits, play in your yard, lawn, park, tailgate or even in your living room sitting down.
PADDLES: Waterproof 7-layer plywood with comfortable rippled foam handles for a great grip. The fluorescent paddle is 12.8" (32.5cm) long and 7.3" (18.6cm) wide
SET INCLUDES: 2 fluorescent wooden paddles, 1 wind birdie, 1 red slow birdie, 1 strong ball and a carry bag.
---
Description
Funsparks Jazzminton Beach is perfect for just that, the beach. This set comes with 2 birdies, 1 that is made for windy days and one for a slower more relaxed game, 1 ball and a reusable drawstring carry bag to store all of the pieces. The feathers are attached using a special water-resistant glue to ensure cohesion when playing by the beach, pool or in the rain. This game is excellent for beginners or veterans alike as you can play fast or slow, with a choice of a variety of birdies. Rally back and forth or set and spike your way to a competitive game, no matter what this game is loads of fun for all ages!
---
Jazzminton Awards
---
Content
1 Fluorescent Orange Paddle
1 Fluorescent Green Paddle
1 Wind Birdie
1 Red Slow Birdie
1 Heavy Play Ball
1 Reusable Carry Bag
---
JAZZMINTON VERSIONS
---
| | |
| --- | --- |
| | We give a 100% money-back guarantee or an exchange at the customer's request if they are not fully satisfied with their purchase. It does not matter on which online store you bought it as long we sold it to you. |
---