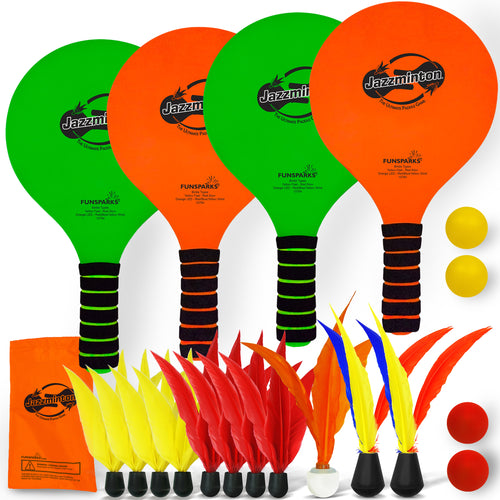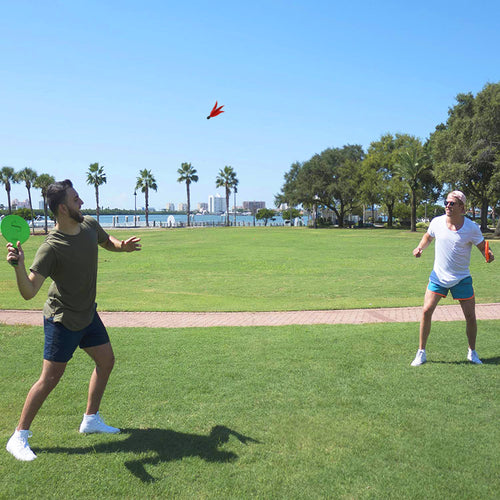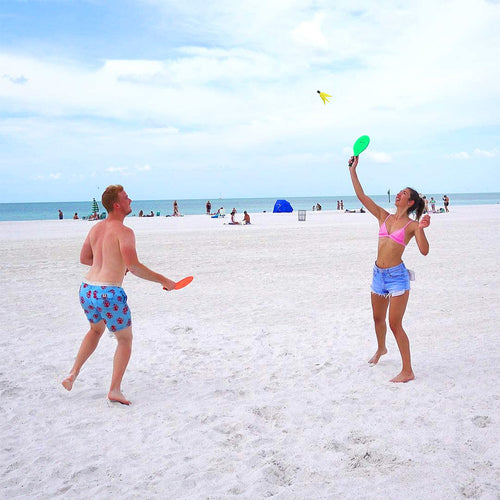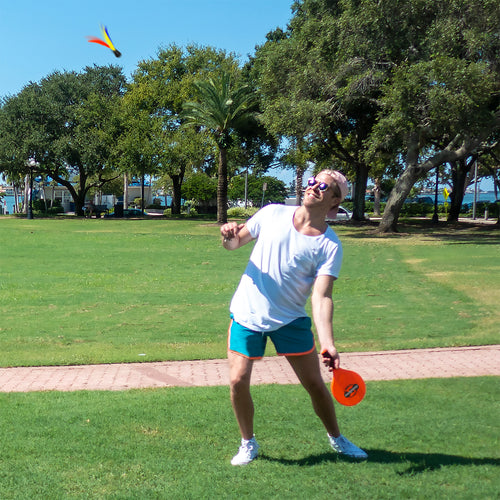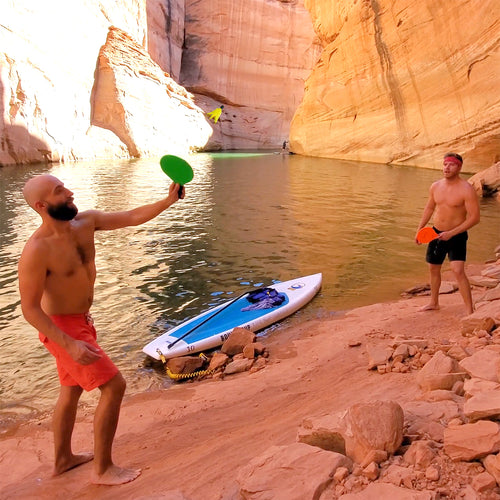 ---
Jazzminton® Select Double
ULTIMATE PADDLE GAME: This is the ideal paddle ball game for all
JAZZMINTIN DOUBLE SET: Ideal for the whole family, friends, schools, pe-classes and much more
INDOORS AND OUTDOORS: Slower birdies are best used for indoor play and the balls for outddors
PERFECT RACKETS: Great as a Gift, Play at the beach, in the backyard, or on the playground, we can play without restrictions. This is a good choice for kids without complicated rules.
INCLUDES: 4 paddles (2 orange and 2 green),4 red birdies, 11 birdies (4 slow, 4 speed, 2 wind, 1 LED birdies), 4 balls (2 speed and 2 slow balls) and carry bag.
---
Description
Jazzminton is an exciting, fast paced and extremely addictive indoor/outdoor paddle game. Just serve to the other player and rally back and forth. Play a fast competitive game or keep it simple.

The sport of paddle ball is generally played between 2 people, however you may have as many people and as many birdies or balls as you like.

There are no boundaries so you can play this game virtually anywhere especially because the birdies are not very hard and will not break things on impact.
---
Jazzminton Awards
---
Content
2 Fluorescent Orange Paddles
2 Fluorescent Green Paddles
4 Red Slow Birdies
4 Yellow Fast Birdies
2 Wind Birdies
1 LED Birdie
2 Heavy Play Balls
2 Light Play Balls
1 Carry Bag
---
JAZZMINTON VERSIONS
---
| | |
| --- | --- |
| | We give a 100% money-back guarantee or an exchange at the customer's request if they are not fully satisfied with their purchase. It does not matter on which online store you bought it as long we sold it to you. |
---