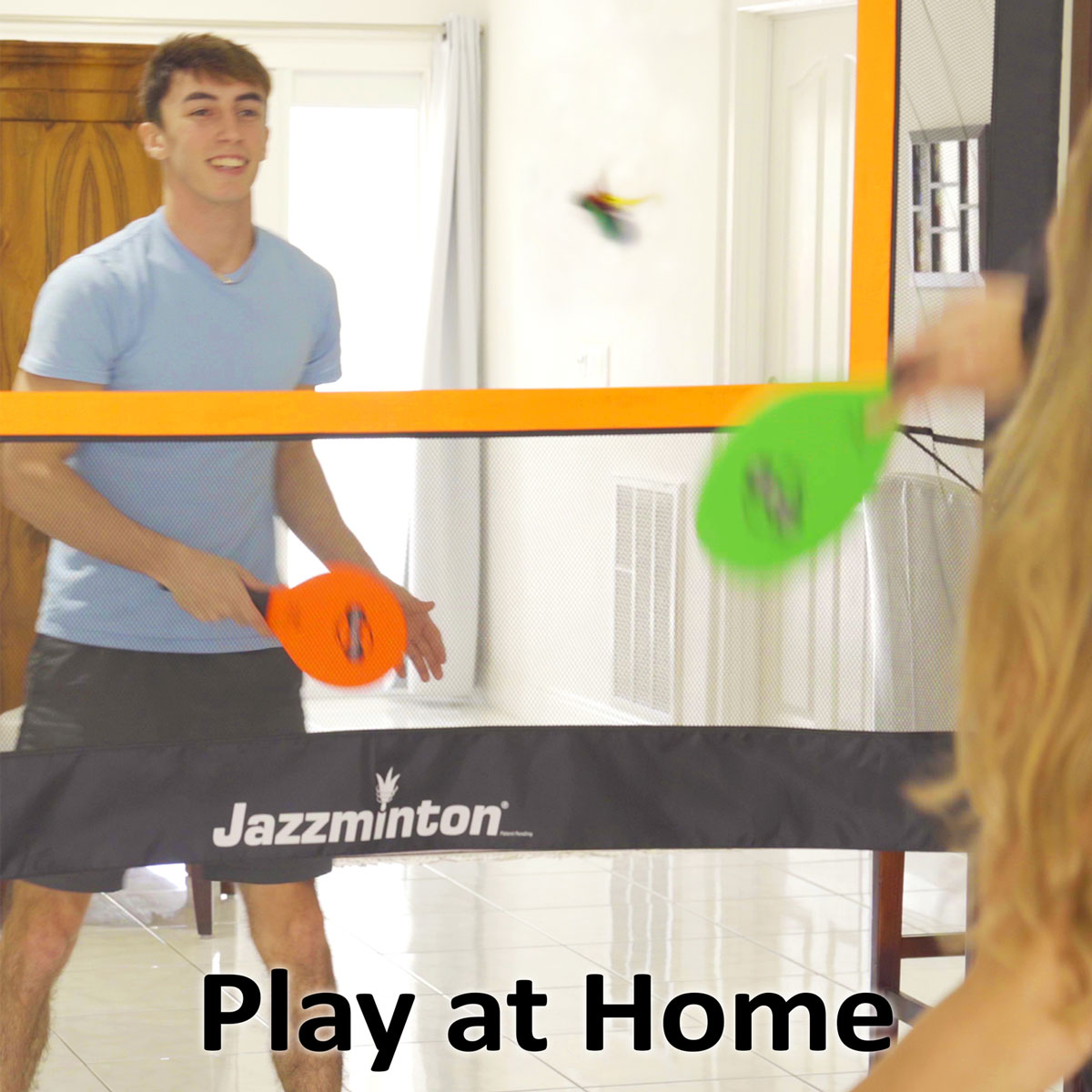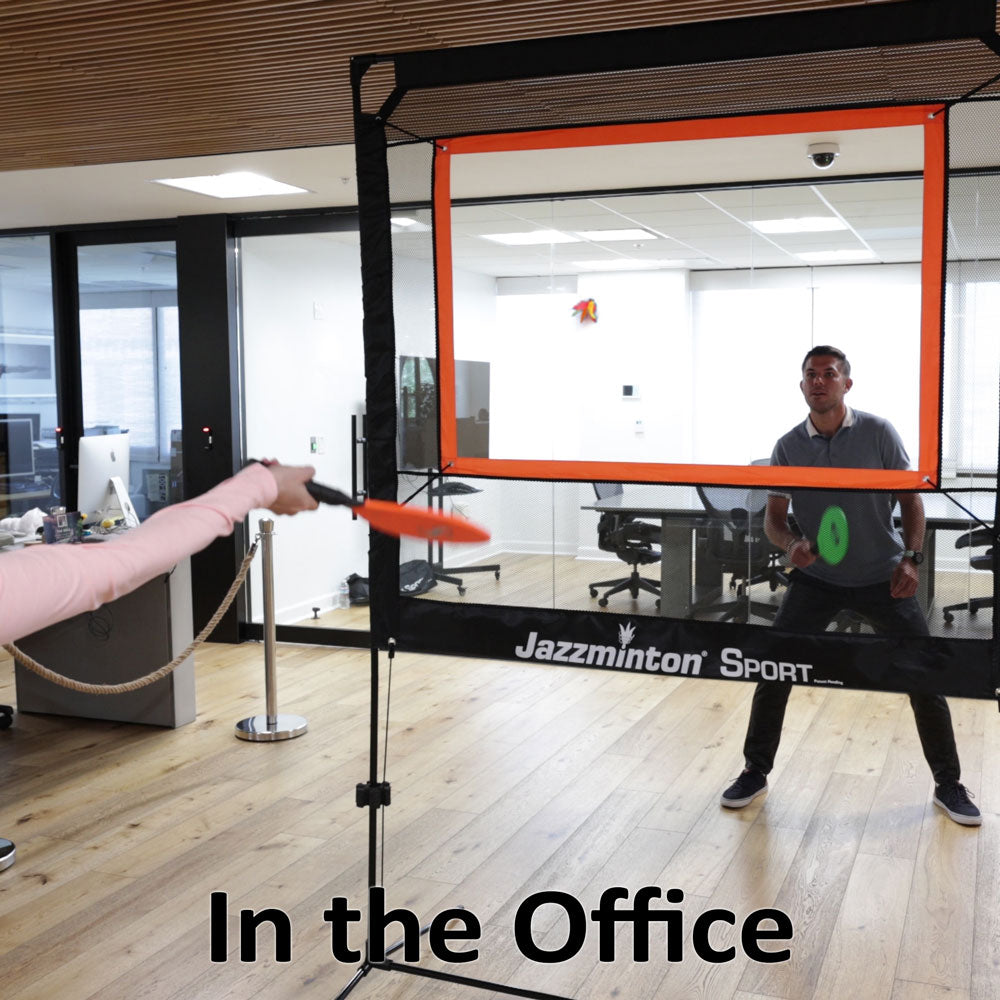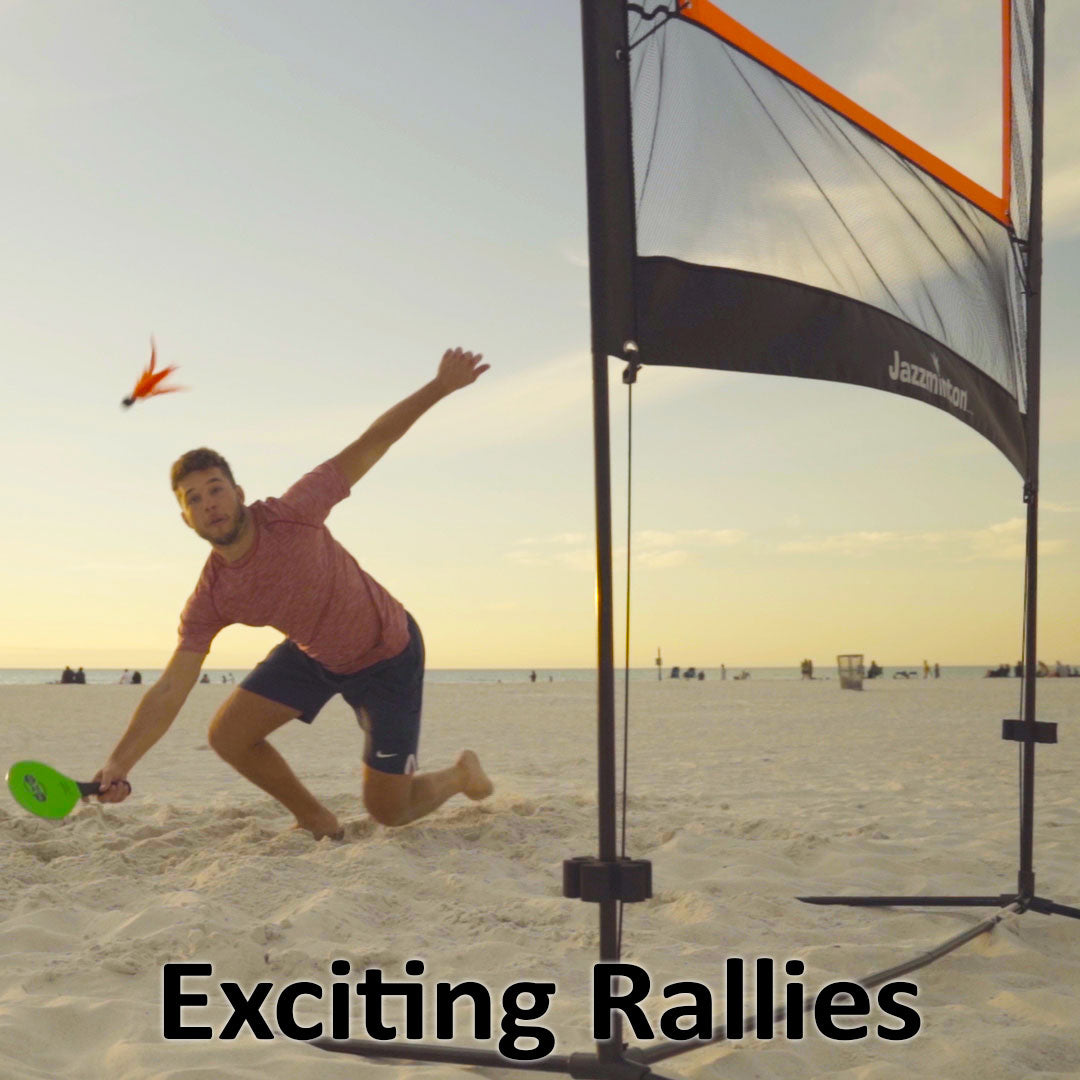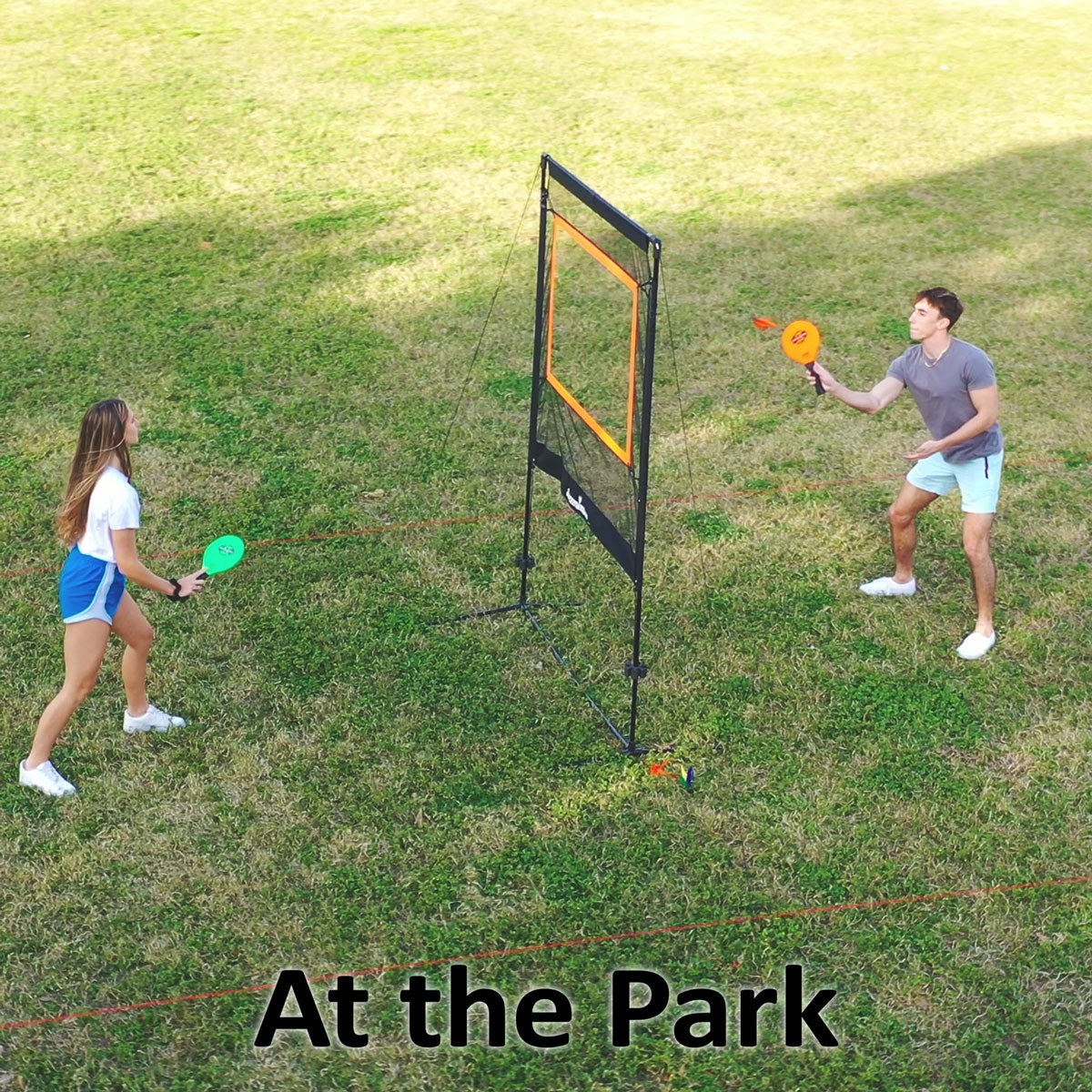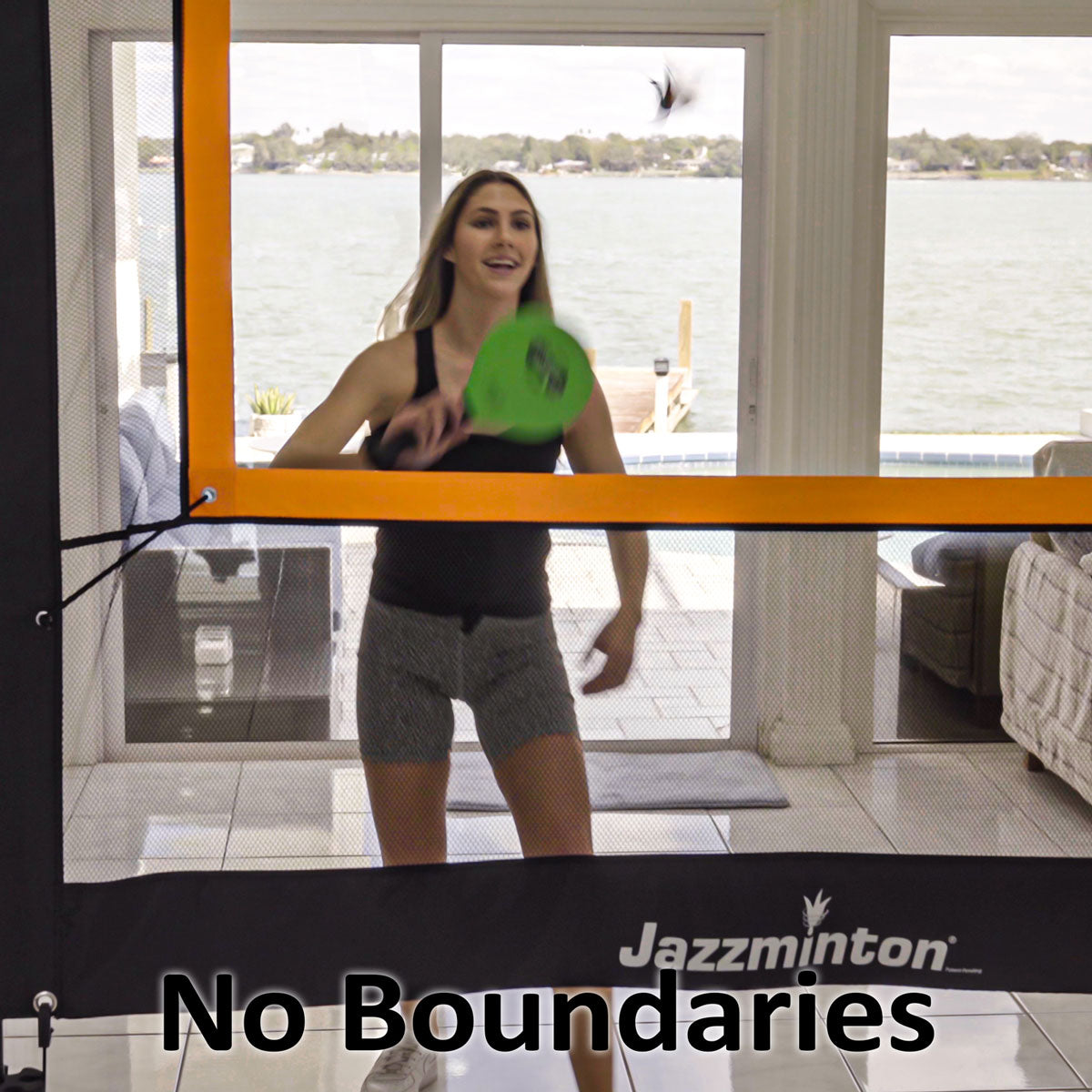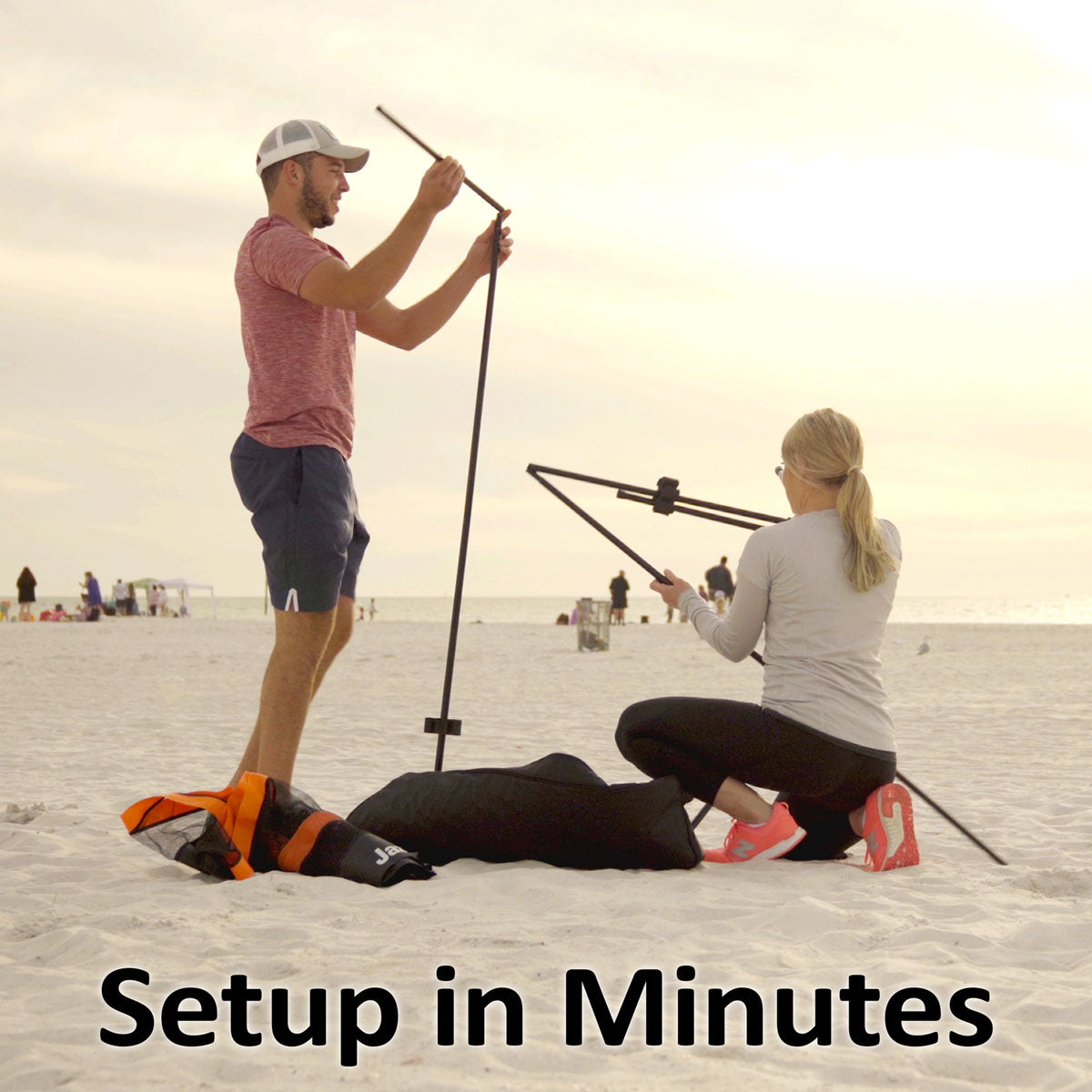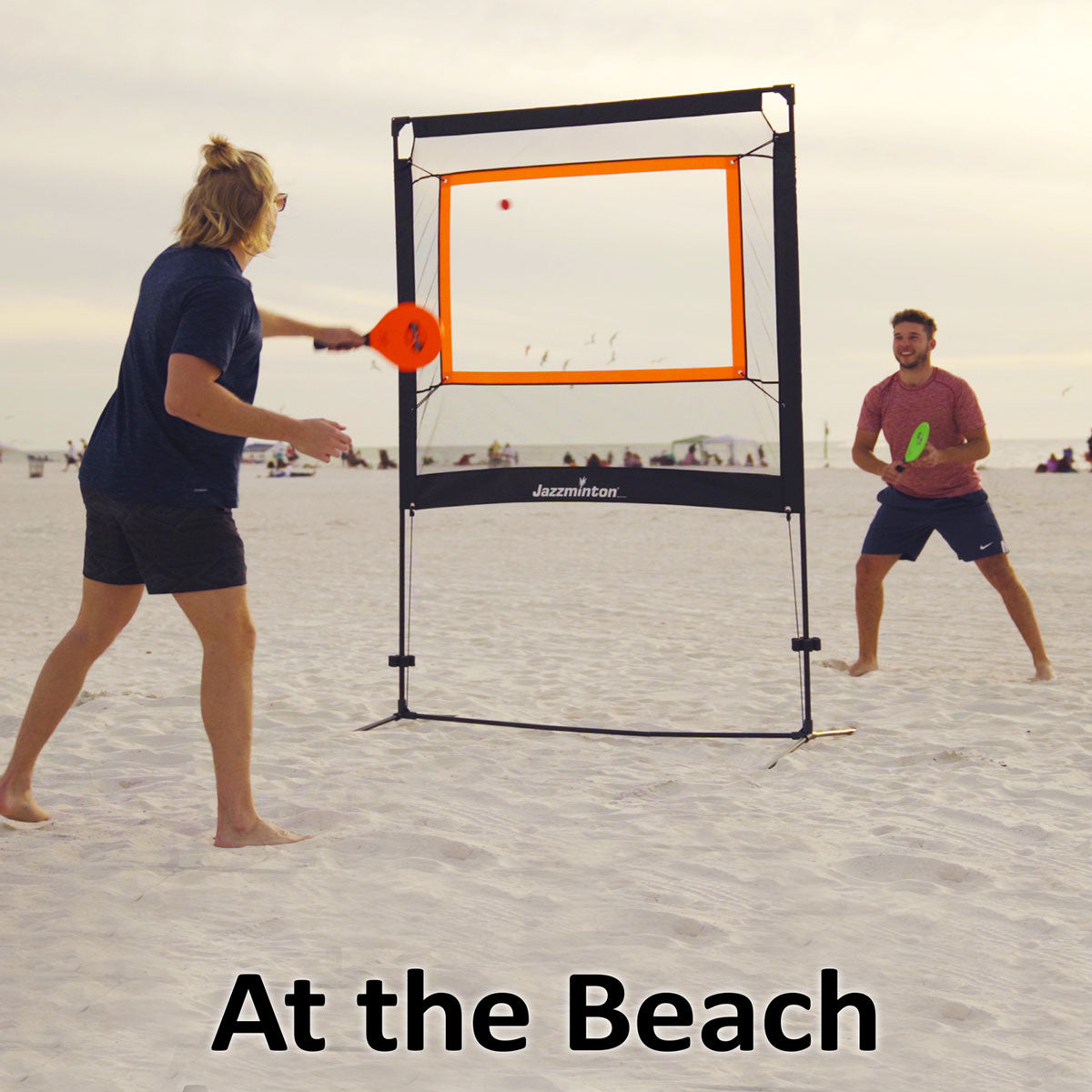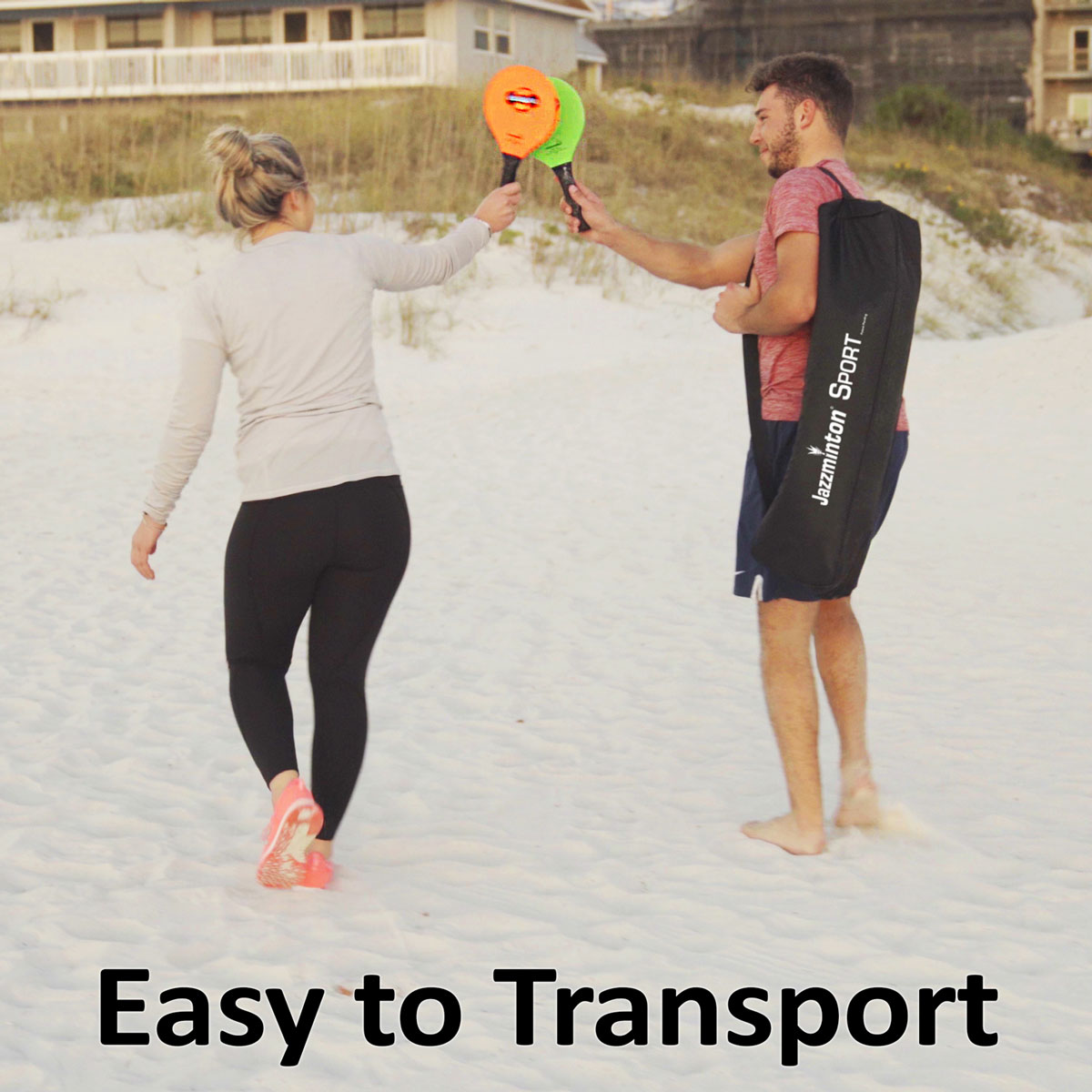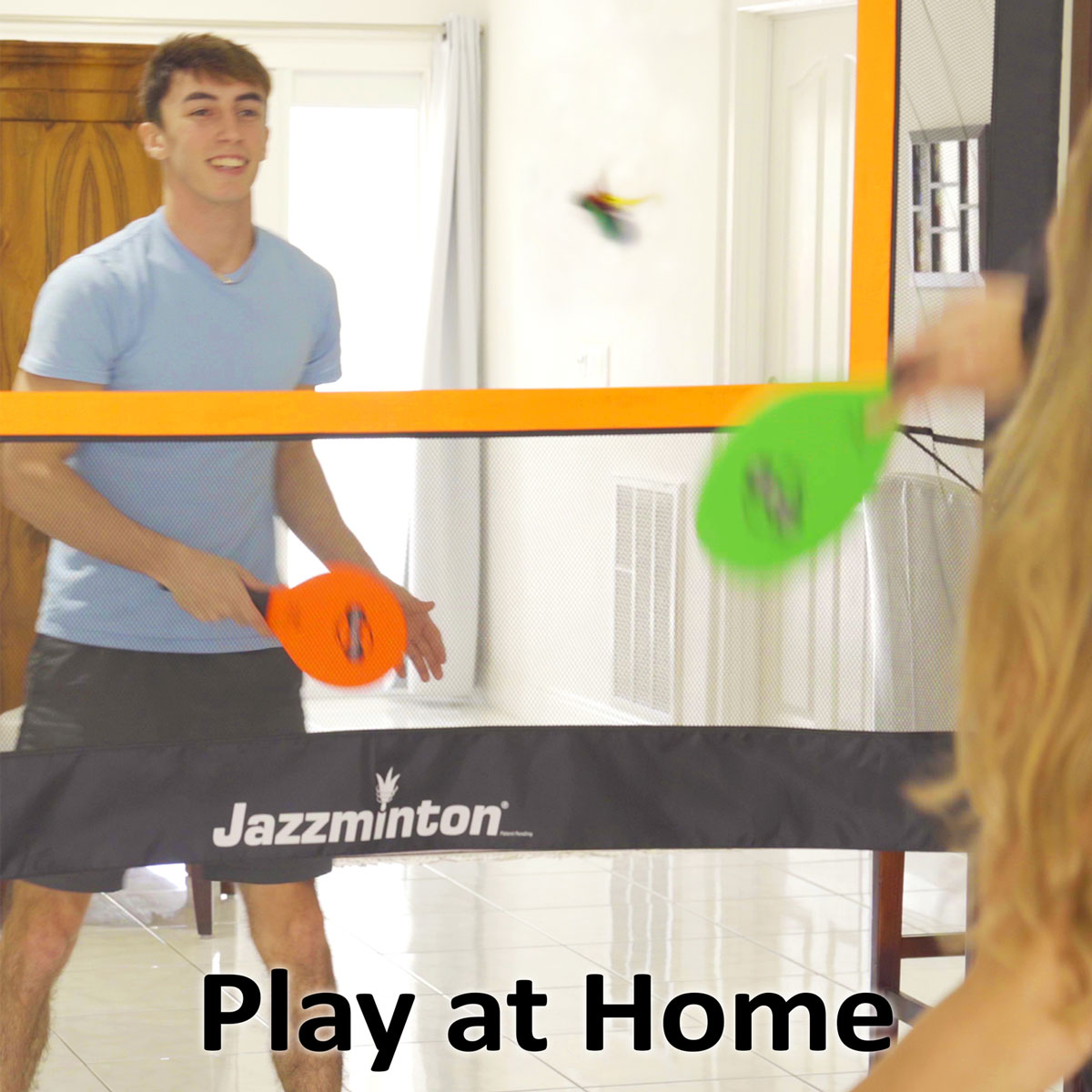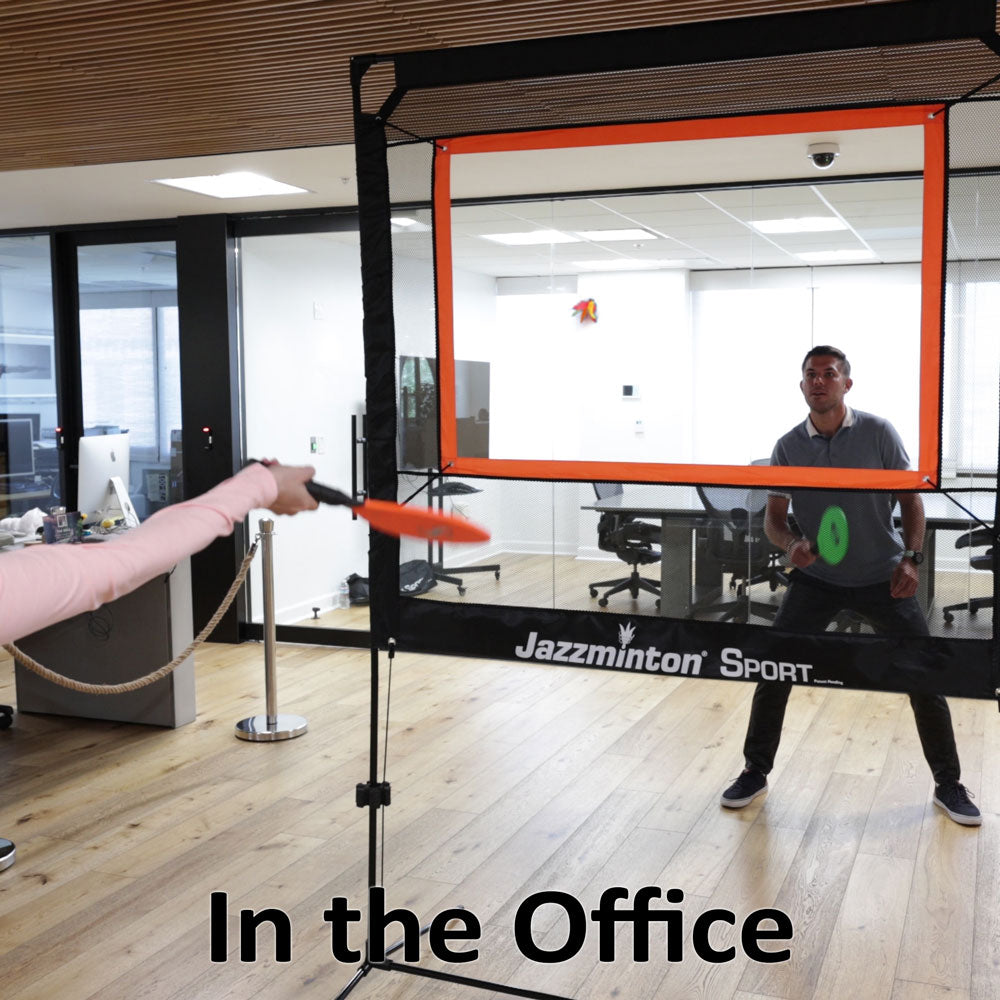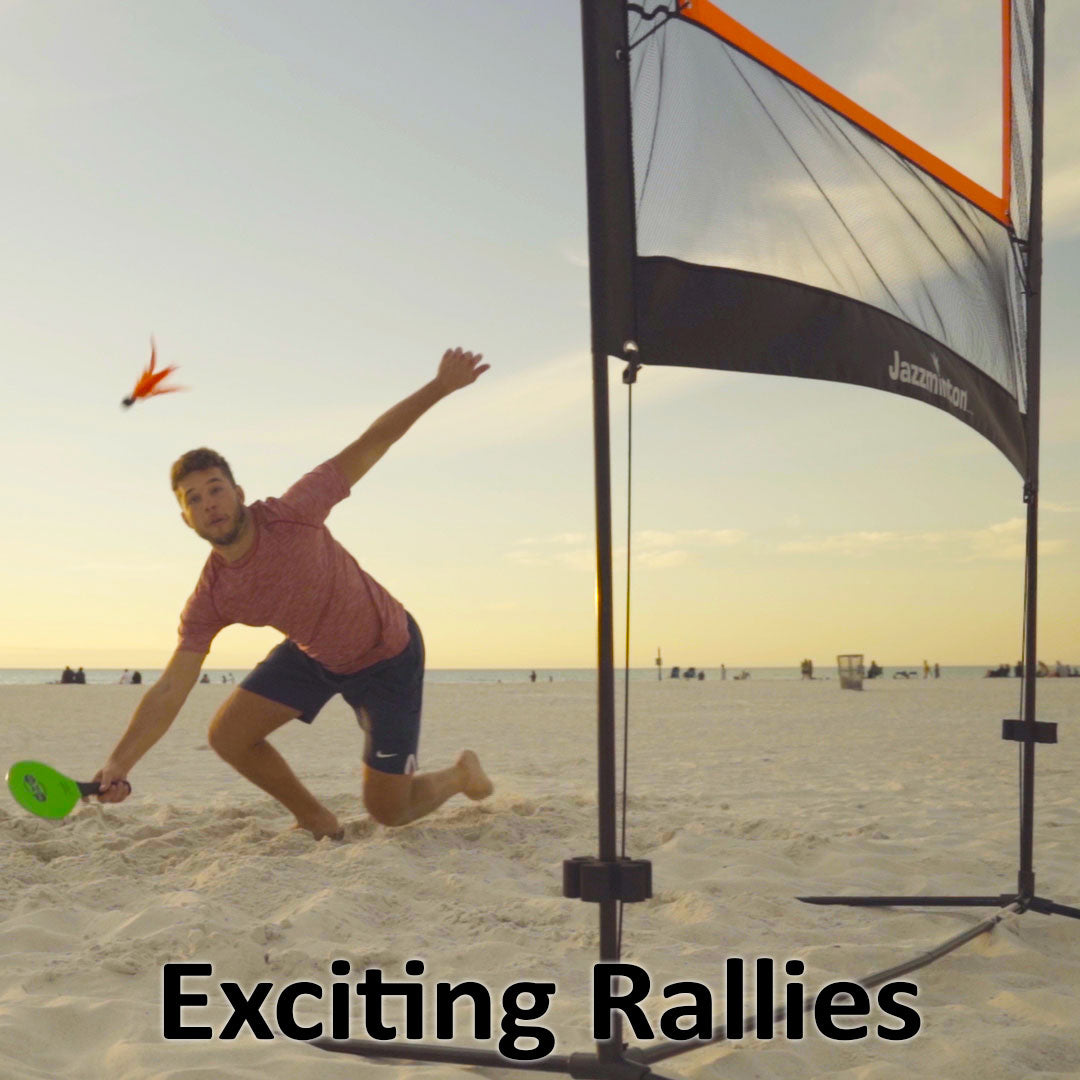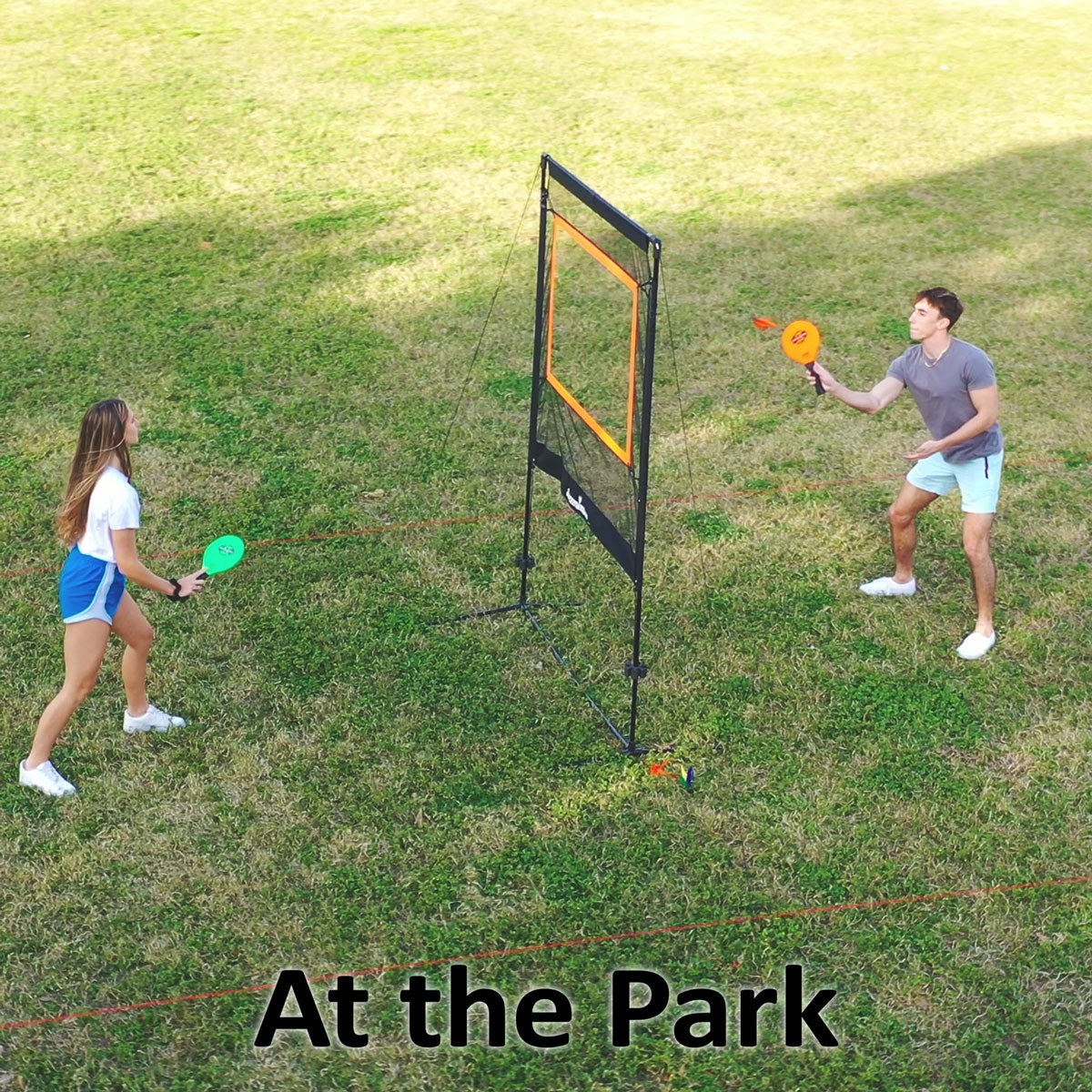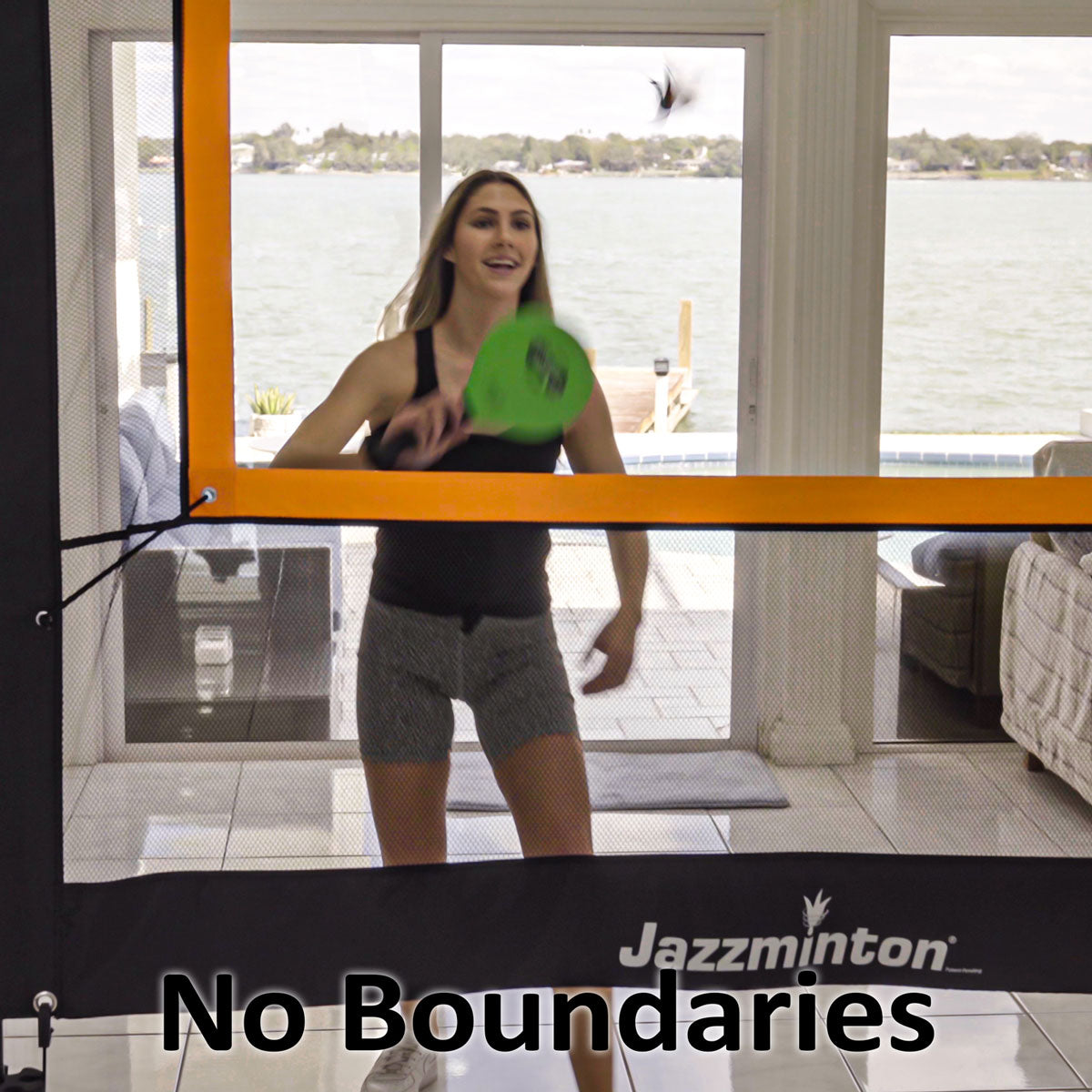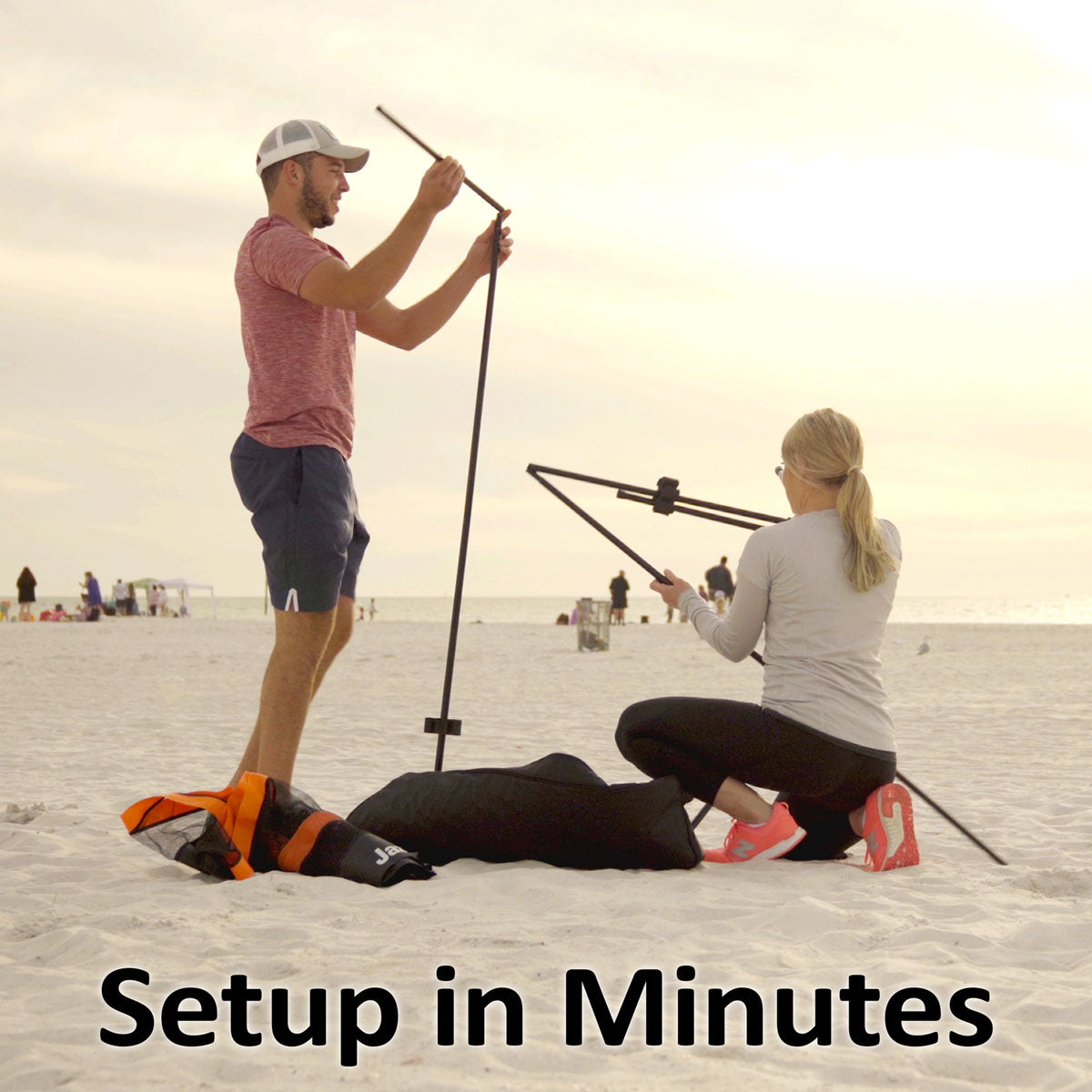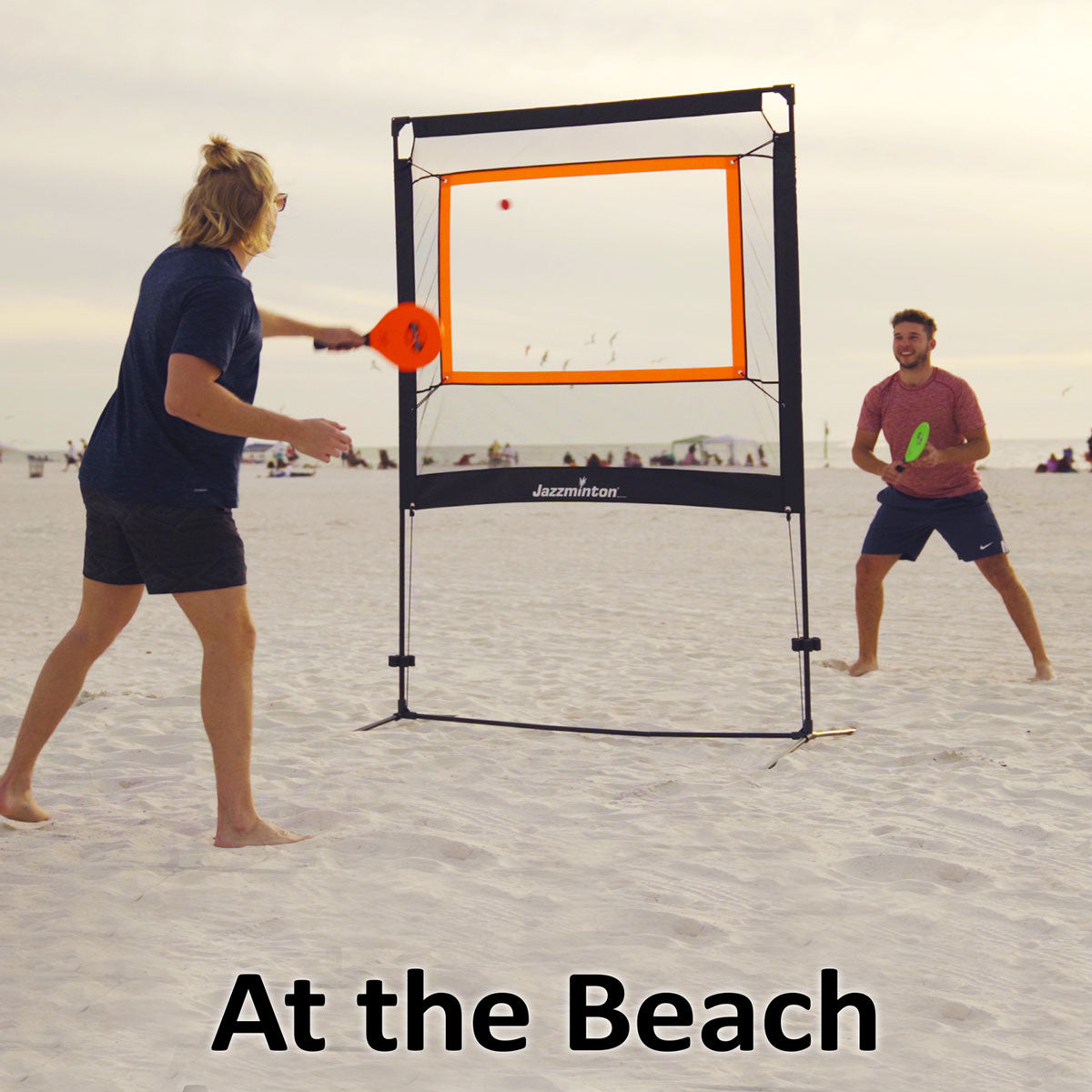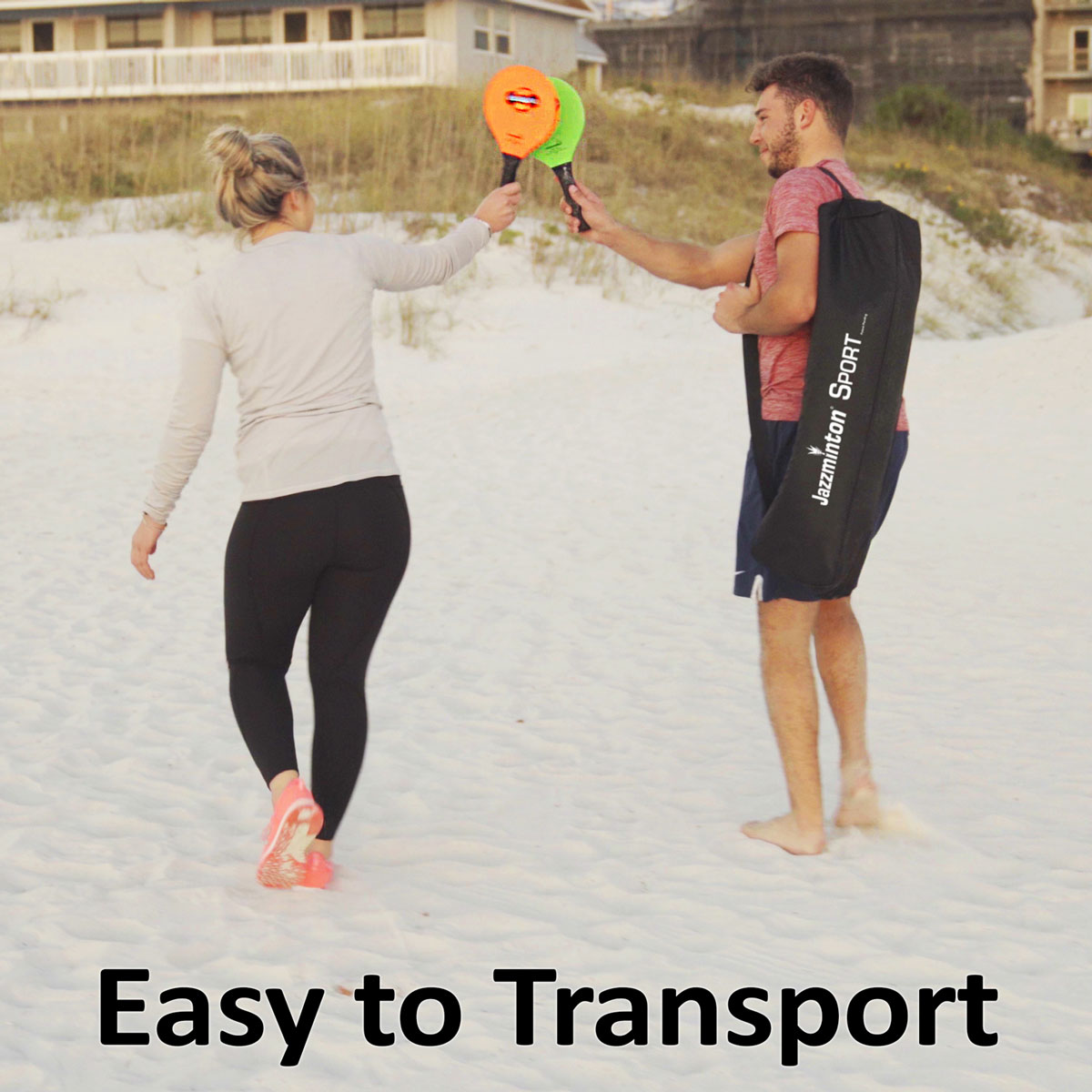 Revolutionizing Paddle Game
Creating the next big sport
The birdies slow as they fly
Feel the satisfying sensation of spiking, point after point, creating amazing, competitive rallies.
Play indoors or outdoors
Bring it to the park, beach, backyard, on vacation or just in your very own home, Jazzminton Sport can be played anywhere.
Set up takes 1-2 minutes
The steel rods comes with an elastic inside to keep the parts together making for a quick set up.
No Boundaries
The square opening acts as a boundary as it can only go so high or low and only so far to the sides. This, coupled with the fact that the Sport birdie cannot be hit out of reach makes it so boundaries are not required.
Small space requirement
Unlike many sports where you need to go out to a court to play, you can play Jazzminton Sport right at home so you don't have to sit on the sideline all of the winter months
Calling on all paddle and racket sport enthusiasts
Especially pickleballers - we see you
Great for practice
Sharpen your pickleball, badminton or tennis skills . Work on your hand-eye coordination, lateral movement and reaction time.
Pickleball
Can't find a court? Court too busy? Is it raining? Too cold? Try out Jazzminton Sport and play right at home.
High quality, great warranty
This set is made to the standard of premium sport equipment. Quality is everything and we can give you our promise that we've done everything to ensure this will stand the test of time therefore we have Included a 1 year warranty.
How to Play
Jazzminton Sport is played 1 vs 1.
A player starts a point by serving the birdie through the opening of the net.
The receiving player must return it back through the net, this goes back and forth until a player cannot return it.
First player to reach the agreed upon points, wins, usually 11 or 21 (win by 2).
TERR K.
I bought this for a family reunion and we had a blast playing it! Challenging, but so fun. The net is about 1/2 the width of a badminton net, so it's great for smaller yards, worth the fun!
PHILIIP D.

Five stars hands down. All items are of good quality and were packaged very nicely. This game is very fun and amazing. I have no complaints. I would definitely recommend.
FRANCOIS B.
Love this game!! Always a good time and all my friends like it. It's super easy to learn and everyone can get good at it in a matter of minutes. Great exercise for all ages. Hard not to play without a big fat smile on your face.
MARTI R.

Head bands and towels at the ready. Once the cobwebs have been dusted off the competition really heats up. Captivating and intense matches that keep you hooked for hours. Truly a fun new activity.
Contents List
Net

Elastic Attached Steel Frame

2 Premium Paddles

8 Birdies - 3 Sport, 3 Tournament, 2 Wind

4 Balls

Padded Carry Bag

Manual + Rules
Also included - only needed for windy conditions.
2 Anchor Hooks (wind stabilizing)

2 Anchor Ropes (wind stabilizing)

4 Court Hooks (boundaries)

Court Rope with Winder (boundaries)
Space Requirements
 

Jazzminton


Table Tennis

Pickleball

Tennis

Badminton

Space Requirement

8' x 18'

13' x 25'

20' x 44'

36' x 78'

20' x 40'

Spring


indoors / outdoors

indoors

outdoors
rain - can't play
outdoors
rain - can't play

indoors / outdoors

Hot Summer

indoors / outdoors

indoors

outdoors
too hot - can't  play
outdoors
too hot - can't play

indoors / outdoors

Fall

indoors / outdoors

indoors

outdoors
rain - can't play
outdoors
rain - can't play

indoors / outdoors

Cold Winter

indoors / outdoors

indoors

outdoors
too cold - can't play
outdoors
too cold - can't play

indoors / outdoors

Locations

anywhere

mostly stationary

stationary
(limited courts)
stationary
(limited courts)

mostly stationary (limited courts)

Boundaries

no

yes

yes

yes

yes

Setup

1-3 min

1-3 min

commute

commute

5min or commute

Cost

$200
(incl. paddles & birdies)
$250-$800
(paddles & balls extra)
rent $10-$200/hr
(paddles & balls extra)
rent $10-$200/hr
 (racquets & balls extra)
rent $10-$100/hr
 (rackets & balls extra)

Storage

34" x 9" x 6"

9' x 5' x 3'

N/A

N/A

N/A

Patent Pending

yes

no

no

no

no
Space Requirement
Smallest space requirement ever
Minimum space 8' x 18'
Height requirement 7'10" (94")
Fits in any house
Small storage space
1 gymnasium, 26 kids can play at the same time
COMPARISON
Drag table to left for more
WARRANTY
One year warranty for defects in workmanship and materials.
Satisfaction Guarantee
We give a 100% money-back guarantee for 60 days or an exchange at the customer's request if they are not fully satisfied with their purchase.
Secure Checkout
Payment from the world's most popular & secure payment methods, with Credit Cards, Amazon, Google Pay, PayPal etc.
24/7 Service
Top notch family-owned customer service that will be by your side at every step of the way.
Free Delivery Continental USA
Free Shipping Continental USA
Handling 1-2 business days. Delivery between 1-6 business days.
Assembly 1-3 minutes
See more steps - drag image to the left
For quick and easy storage, simply fold in the legs and post it flat along a wall as demonstrated in the image
Makes for a great gift - easy to gift wrap
Every person's racquet / paddle game, regardless of:
Court access
Location
Cold or hot temperature
Space requirements
Setup time
Skill level
Cost
Storage space
Specifications

 

Minimum space requirement

8' x 18' or 2.5m x 5.5m

Height


7.5' or 230cm

Width

5.1' or 157cm

Assembly time

First time: 5 minutes 
After: 1-2 minutes


Trademark & Patents

Jazzminton Sport has 1 Pending Patents
Jazzminton is a Registered Trademark


Testing

Meets US CPSC Standards & EU Standards

Minimum Age

10 years

Weight

12 lbs
Physical Education
We offer special pricing for schools, camps, churches and non-profits!
Click here to inquire